Witold Śmiłowski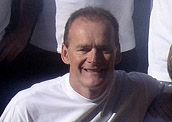 He is one of the most extraordinary personalities in the diving world. He has huge theoretical knowledge and more than thirty years of experience of being a diving instructor. In addition to diving, he is given to a number of other sports. Witold has a black belt in karate, but has also been systematically training in bodybuilding and track racing on fast motorcycles, flies a plane, does parachute jumps, and enjoys kite surfing. He is a Harley Davidson fanatic and in his spare time he travels across Europe on his Harley.
Witek is a PADI Course Director, and DAN Coordinator responsible for DAN training on the Polish market. He not only teaches diving instructors, but also Instructor Trainers. He is also a NAUI Course Director, IANTD Instructor Trainer and three-star CMAS instructor. He began to lead his first courses 28 years ago. Since then, he has trained over 3800 divers of various degrees, more than 1000 instructors, and over 300 technical and trimix diving instructors. He has supervised 12 Course Directors, for many years mentoring them in developing their careers.
For 4 years he was a scuba diving instructor in San Diego, USA. Then he went to South Africa where he founded his own Reef Divers dive centre. After several years he employed 12 full-time instructors and had three different dive centres in the Indian Ocean and in the Atlantic. Moreover, as a Course Director he introduced the PADI federation in Malawi, Mozambique, Seychelles, Comoros and Mauritius. He also led instructor courses in Britain and in Thailand. He is Mauritius' honorary citizen, a distinction he received from the Minister of Education, for his input into the professional development of the citizens of Mauritius in the area of diving and for his role in the development of the diving industry in this country. He has been active in the field of diving business marketing and customer service in many countries.
His deepest dive was at a depth of 154 meters. However, he does not see anything exciting in the so-called elevators. He values length of stay at bottom over depth, saying "Do not ask me how deep, but how long I was there". He says the most beautiful dives are to the depth of 100 meters, with a long bottom time.
He is the author of the 'Shark Diver' specialty. This program was repeatedly carried out off the coast of South Africa, in a place where there are most shark species, including the infamous man-eater Tiger Shark and Great White. The success of this program is inscribed in the efforts of many organizations working to protect the natural underwater environment.
In 1992 he co-organized a dive in South Africa, during which a Guinness record for the number of people diving in one place at the same time was set. In 1995, he part-sponsored the record breaking of Nuno Gomes, who was Witek's then-employee and a dear friend. Their friendship proved a lasting one. In 2003 he co-organized the Polish record breaking by Leszek Czarnecki in the deepest cave diving (194 meters).
In 1997, his Reef Divers dive centre received the highest status of PADI Five Star Career Development Centre. This was the first, and only such centre on the entire African continent. In 1998 Witek received the award for the most respected PADI Course Director. In 2002 he repeated this success. In 2004 he was awarded by the PADI Chief Executive, Marc Canney for outstanding achievements in the development of PADI in Poland.
In 2006 Witek has been awarded one of highest honours – the PADI Platinum Course Director title. In this way, he was once again honoured for his contributions to diving worldwide. Only 84 people in the world have received this award. The success was repeated in 2007, and this time he was among the 56 Platinum Course Directors in the world. He is one of the few who managed to maintain the status of a Platinum Director for 3 years in a row. In May 2008, at another IDC he has trained his one thousandth instructor. Many successful professionals around the world are instructors he has trained.
He took part in the Bushmansgate expedition in 2003