Remigiusz Baliński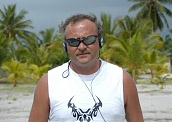 Graduate of the Medical University of Wroclaw, Wroclaw University of Economics, College of Business and National-Louis University (MBA). Professionally engaged in finances, he is the manager of a large financial company.
A diver with years of experience, and a diving instructor since 1989. One of the first students of a young instructor Leszek Czarnecki in the early 80's ;)
He dived in some of the most interesting places in the world. Wreck diver – participated in three expeditions, penetrating the Truk Lagoon wrecks and two expeditions to the wrecks of the Bikini Atoll, the former U.S. nuclear testing ground. Participant of the expedition to the North Pole (diving at the Earth's north pole) and the Antarctic. He also dived in the world's largest lake – the Lake Baikal. Cave diver with years of experience. Yucatan cave explorer. Support diver during the record-breaking cave dive by Leszek Czarnecki. Team member in the off-road expedition across Siberia. He has also been diving with sharks in South Africa and Asia.
Trimix diver
Technical Cave Diver DPV
Rebreather diver
Wreck diver
and of many other diving specialties
Motorcyclist and custom motorcycle manufacturer. He has been constructing choppers and dragsters with powerful engines and torque.
A former judoka and an avid freestyle snowboarder.
He took part in the following expeditions:
Mexico 2004, 2005 and 2009, North Pole 2006, The Bikini Atoll 2006 i 2007, Siberia 2007, Antarctica 2008, Micronesia 2010, Galapagos 2010 and Philippines 2016.