Ryszard Paluszkiewicz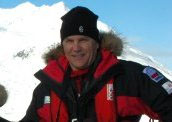 Born in August 1960, graduated from Wroclaw University of Technology. For years associated with diving and its technical aspects, he combines passion with work. He has been producing diving garments (suits) for over 20 years. In the beginning, having practiced in a German company, he started the production of Windward windsurfing wetsuits in Poland. He has also worked with brands such as F2 and Fanatic. Then he began producing the Eques diving suits, used by many famous divers in various expeditions. Until 2009 Eques also produced wetsuits for Scubapro. His many years of experience allow him to develop such projects as the construction of state-of-the-art cave sidemount harness.
Privately, he is an avid diver, having completed the Rescue Diver qualification and many additional courses. He has participated in numerous diving expeditions, including the North and South Pole, and the caves of Mexico. Dived many times in the waters of Europe. Besides diving, he is passionate about rallying and off-road driving. He participated in the expedition in Siberia along the Baikal-Amur Magistral. Friends say that he never stopped being a joyful child, colleagues appreciate him for his experience and professionalism. And, as his example proves, one does not exclude the other.
He took part in the following expeditions:
Mexico 2005, North Pole 2006, Siberia 2007 and The Cayman Islands 2012.